Top 5 'Harry Potter' Gifts for Your Favourite Muggle
Published by CultNoise Magazine.
With everything from Chocolate Frogs and Bertie Bott's Every Flavour Beans to Remembralls and books on Advanced Potion Making, the various sweets, treats, knickknacks and accessories from the Harry Potter series have captured the imagination of an entire generation of youngsters and adults alike.
We may never be able to truly experience the Wizarding World of Harry Potter (but I remain hopeful that it is real), so having some prized props, toys and accessories from the series is about as close as we will get. Here is our list of the top five best Harry Potter gifts perfect for your favourite muggle:
1. Albus Dumbledore Pop! Vinyl Figure, £10.99 from
Zavvi
Pop! Vinyl figurines have taken over as the cool new thing to have in association with your favourite fandom whether it's Game of Thrones, Disney or Marvel so it's only fair that our favourite Harry Potter characters are immorilised in adorable, tiny form too. Look how cute Dumbledore is!
2. Set of Three A5
 

Harry Potter

 

Notebooks, £10 from

 

Literary Emporoium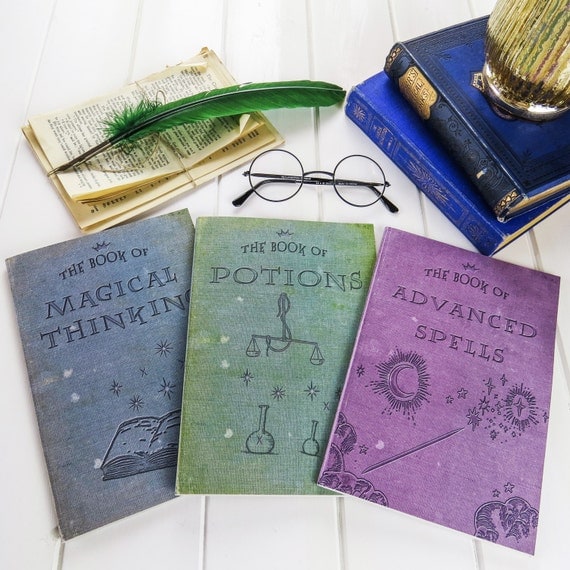 With this handmade Harry Potter stationary from Literary Emporium on etsy.com, you can now pretend you're Hermione studying Advanced Spells and hope that her magical presence will inspire you in your two-hour-long, soul-destroying Maths class on a drizzly Muggle Monday morning. Having these notebooks will definitely brighten your day!
3. Personalised
 

Harry Potter Hogwarts Acceptance Letter Gift Set, £8.99 from

 

wizardingwaresuk
This has got to be the perfect gift for any die hard Harry Potter fan, right?  With this gift set, you will receive a personalised acceptance letter from Hogwarts School of Witchcraft and Wizardry (dream come true!) with a wax stamp on your customised envelope, your very own Marauders Map, a Hogwarts equipment list, a letter from the Ministry of Magic explaining that owl post is currently down due to several muggle sightings of them (adds an extra little touch of magic, don't you think?), a Hogwarts Express train ticket for Platform 9¾ and a Knight Bus ticket.
Everything you need to start a new school year at Hogwarts. What more could you want?
4. Hermione's Time Turner Necklace, £54.95 from
Harrods
This particular Harry Potter gift might be a bit pricey but, come on, you could have your very own Time Turner! Wouldn't this come in handy for all those times you forgot to do your Potions class homework and needed to travel through time back to two days before to get it done or that time you slipped in the middle of the Great Hall during a huge feast and longed to be able to time travel back to five minutes before so you could dodge that spill on the floor? It's practical as well as pretty!
If only it really worked. *Sigh*
5. The
 

Harry Potter

 

Book Handbag, £44.99 from

 

BagsyMeFirst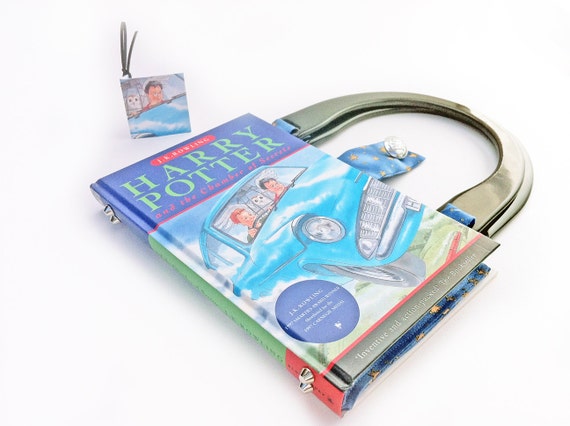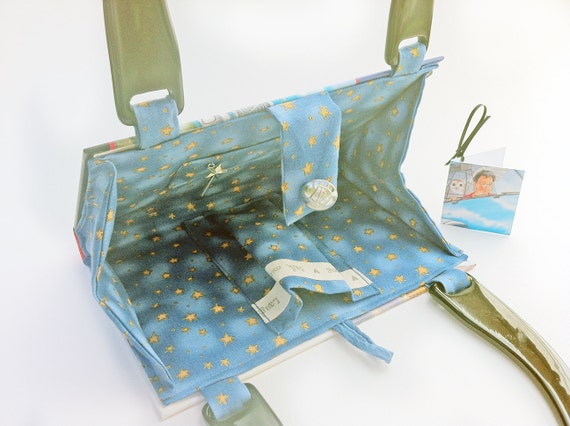 Handmade, customised gifts are always the best and this ingenious Harry Potter book purse from etsy.com is no exception! And if you're feeling a bit do-it-yourself, why not have a stab at making your own? What a great way to recycle your old books!
The hole that the Harry Potter series has left behind since the release of the final film installment Harry Potter and The Deathly Hallows: Part 2 may never truly be filled. But at least we can still revel in the magical world with these inventive and adorable muggle gifts.
Which Harry Potter gift is your favourite? Let us know what you think in the comments section below.
Featured image courtesy of lozikiki via Flickr.
Header image courtesy of Sophie McNaughton.